This is one for the collector geeks...
It's a real odd release this one and if i'm honest, it's a pile of crap.
Put out by Sony in Germany in 1999, this appalling 'mix' was never endorsed by Shaky. In fact the Shaky team were mortified when they found out this was released. It's a shockingly bad megamix of Shaky singles within a CD Single which included a Radio edit and a full length 'maxi' version (the European name for 12" version). The mix has some bad DJ style MC'ing over it and an annoying disco pop beat throughout. It's a mish mash of a mix like something Jive Bunny would aspire to. And then there is
that
sleeve..
Anyway, I didn't know there was a label variation on the German CD Single of the Rock'n Roll Hitmix CD. Does anyone know why there were two different coloured labels? It's a simple swap around of the Purple and Black between label and font on both. Maybe it was issued somewhere other than Germany? Anyone know?
It'll be interesting to know who here has one in their collection and what colour label they have? Maybe you have both?
It may indicate if one is rarer than the other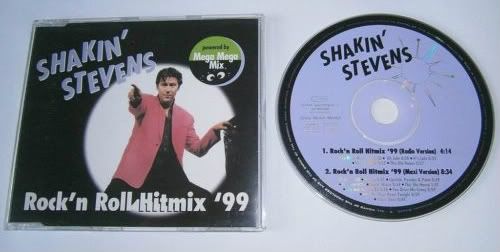 The Purple/Black Label Edition
The Black/Purple Label Edition
(I can hear the collectors in you now saying, "Dam you takeone...I didn't know there was two different labels...now I gotta track the other one down that i'm missing..more bloody expense.."
I have the black one with purple ring.
"Made in Austria" on the CD.