Issue 19
This time the cover photo was taken from the "Turning Away" single.
After the great success of the Christmas number 1 there was some disappointment that the next single hadn't done as well as hoped. The fans featured in the video had been selected at random off the the computer and were invited to come along for the day. Shaky explained to those disappointed because they hadn't been invited or who had turned up and weren't allowed in that there were limits to the number that they would be able to use and there were health and safety issues involved. One of the fans who was picked - Shirley Ann MacDonald - had written an article about the day for a local magazine called "Images" and an edited version appeared later in this issue. Shaky suggested that readers could send in reviews of the winter tour or any other event they attend. There was a previously unseen photo from the video including some of the members of the band and Dave Edmunds who Shaky really enjoyed working with.
Singles-wise it would be at least the summer before anything was released and there wouldn't be an album until September 1987. The plan was for Shaky to go into the studio with 4 or 5 different producers and record 3 or 4 tracks with each of them so that between the summer of 1986 and September 1987 there would be about 5 singles.
There were some photos included from the Cliff Richard Tennis Tournament. One of Shaky on his own was available to buy from the fanclub for 50p plus postage. The first 500 ordered would be personally signed by Shaky.
All Chistmas/Valentine/Birthday/Easter cards received had been sent on to a children's home in Gravesend.
Two interesting programmes were coming up. First a BBC2 documentary called "Fans" - all about fan clubs and fans - which would include Shaky meeting someone who had written 70,071 "pleases" asking to meet him. Roz and some other fans would also feature.
Secondly a completely different subject - a Demond Wilcox documentary about Connie Taylor, a fan who had been badly injured in a car accident in Glasgow, who Shaky had visited.
Plans were underway for the next UK tour which start around 12th November ("probably in Sheffield") and would also visit Newcastle, Edinburgh, Hull, Leicester, Nottingham, Birmingham, Manchester, Liverpool, Brighton, Bournemouth and London. Shaky also hoped to tour Europe in 1987.
The competition this time was a wordsearch. There were 27 song titles to be found and the winner would get a pair of tickets for a UK concert.
Finally there were some new t-shirts available. They were white with the colour photo from the "Turning Away" single on the front. They came in very small, small, medium, large and extra large. The very small ones were £3.99 plus postage and the others were £4.99 plus postage.
Page 5 contained the wordsearch. The centre pages featured a photo taken during the recording of the "Turning Away" video while page 8 had a photo of Shaky taken during a match at the Cliff Richard tennis tournament.
"Shaky's Snippets" included news that Freya had had a baby boy called Ben, member June had beaten her agrophobia to attend the shooting of the "Turning Away" video and "Merry Christmas Everyone" was set to make the Guinness Book of Records after selling 156,000 copies in 8 hours. The second half of the page showed Shaky with Hank Marvin, Cliff Richard and Mike Read at Cliff's tennis tournament.
Page 10 contained Shirley Ann MacDonald's article about the "Turning Away" video shoot and a photo of Shaky with Dave Edmunds.
Page 11 had a photo of Roz in the office surrounded by Shaky's birthday cards and the final page and a quarter were taken up by penpal requests.
Included with this issue was a flyer for a pro-celebrity golf tournament which Shaky was due to take part in towards the end of May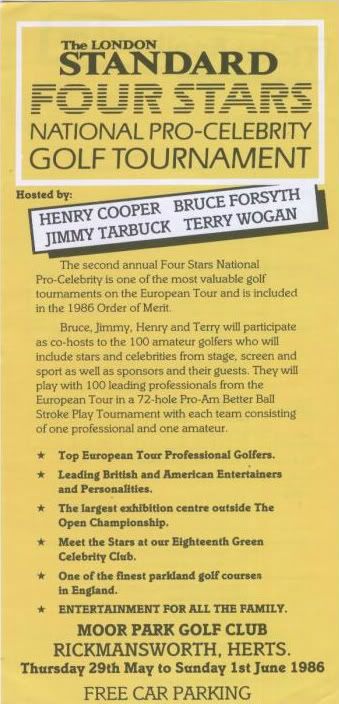 Image courtesy of shaky100.