Here we go then, another in my little line of Shaky singles on the autopsy table -
'How Many Tears Can You Hide' - Underated? This could be a bit of a classic. It never seems to pop up in the same sentences as 'A Little Boogie woogie' (which is a personal fav of mine!), 'True Love' and 'Pink Champagne'.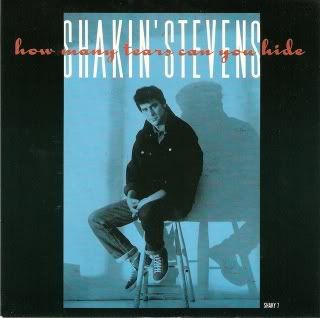 1988 saw the release of How Many Tears, another stab at the dance/electric pop sound. This was the start of the Pete Hammond (Stock Aitken & Waterman Productions) that was not really the right direction for Shaky at this point in his career, although it seemed logical at the time. 'Tears' proved to be a hit among the fans and even though it charted at the lower end it could have been a major hit. No promotion and lack of airplay will spell doom for any record and Tears was a victim of it. It even had a half decent video which no one saw. The video was even a rarity among the fans and many never saw it before the 2005 DVD 'The Collection' release.
Lets get something laid down first. This was never going to be a live track. It is an out and out studio track with it's production that could never be reproduced live. "
Your Love
...." Vocally, that part of the record is pure studio sound. As far as i'm aware this song has never been performed live by Shaky.
The track had high hopes, the fan club raved about it at the time, but it was Shaky's lowest chart hit since This Ole House back then in 1988. I don't think the song can be blamed. It was the start of the music world and radio slowly turning it's back on Shaky and shutting down the biggest hit maker of the 80's. It was a time when Shaky should have really stopped dead in his tracks and looked at his career for a serious change in direction.
How Many Tears was originally a single for Frankie Miller (and written by him with Graham Lyle).
It was not a hit for Frankie either. Funny enough, the track came from an album of Frankie's in 1986 called 'Dancing In The Rain'. Ironically there was another track on Miller's album called 'Shaky Ground'
Many artists have covered songs by Frankie Miller including Ray Charles, Joe Cocker, Roy Orbison (The superb Heartbreak Radio), Bonnie Tyler, Rod Stewart, Clint Black and even The Proclaimers. The list is endless.
Here's some 'How Many Tears Can You Hide' facts...
First appeared in UK chart at a new entry of No. 57 on 15/10/1988.
Last Seen in UK Chart on 05/11/1988 (No.60).
Length of time in UK chart: 4 weeks.
Highest position in UK chart: No.47.
It was produced originally by Bob Heatile (who wrote Cry Just A Little Bit and MCE among others) and Shaky.
It was available on 7", CD Single and 2 Track 12" Single which featured a Dance Mix .
The CD Single in the card sleeve is a real rarity now. Some of the CD singles were plagued with sound problems and to find one that plays perfect is a real treasure. Some early CD singles from the late 80's fell ill to 'CD rot' and the Feel The Need In Me CD single suffered the same disease. The CD was a 3 Track that had the Dance Mix and the B-Side 'If I Really Knew'. A Pete Hammond remix of the 7" featured at the time only on the CD Single and was slightly different to the album version from 'A Whole Lotta Shaky'.
'If I Really Knew' is a classic B-Side among the fans and was written by Newcombe and Taggart.
There were two limited edition 7" Versions. One contained a free poster folded up inside and the other contained a free metal badge (see photo below)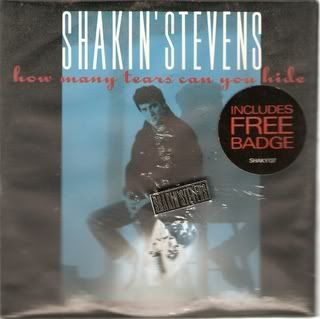 Note how the font 'Shakin Stevens' on this sleeve has the words 'How Many Tears Can You Hide' underneath it and how the font on the sleeve at the top has the writing through 'Shakin Stevens'. It's a classic example of how some sleeves undergo slight changes.
So that rounds up another in depth look at a classic single.
'How Many Tears Can You Hide'... We Salute You!